There needs to be a thousand recipes to use up these prolific summer squash, hopefully this recipe will help make a few disappear.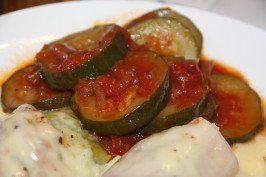 Serves 4
Ingredients:
6 zucchini, small (sliced)
1 purple onion (cut into wedges)
12 ounces salsa, (Primo & Mary's)
2 garlic cloves (minced)
1/4 teaspoon ground ginger
1 tablespoon honey
1/2 teaspoon salt
1/4 teaspoon pepper
1/4 cup white wine
2 tablespoons butter
1 tablespoon olive oil
Directions:
1. Over medium heat melt the butter and oil in a large skillet and add the onions and sauté until tender, add garlic and cook stirring for about another minute.
2. Add wine, zucchini, salt, pepper and ground ginger stir to combine and continue cooking over medium heat, stirring until zucchini begins to soften.
3. Place a cover on the skillet, and continue cooking over medium low heat until just tender, but still a little crunchy (usually about 15-20 minutes) stir occasionally. Add salsa and honey during the last few minutes, stir to combine and continue cooking until salsa has heated through.
4. Serve and enjoy!