Hanover Baby Lima Beans can be easily added to soups, stews or vegetable medleys.  They are tender and sweeter variety of Lima Beans.
PRODUCT DETAILS
Hanover Baby Lima Beans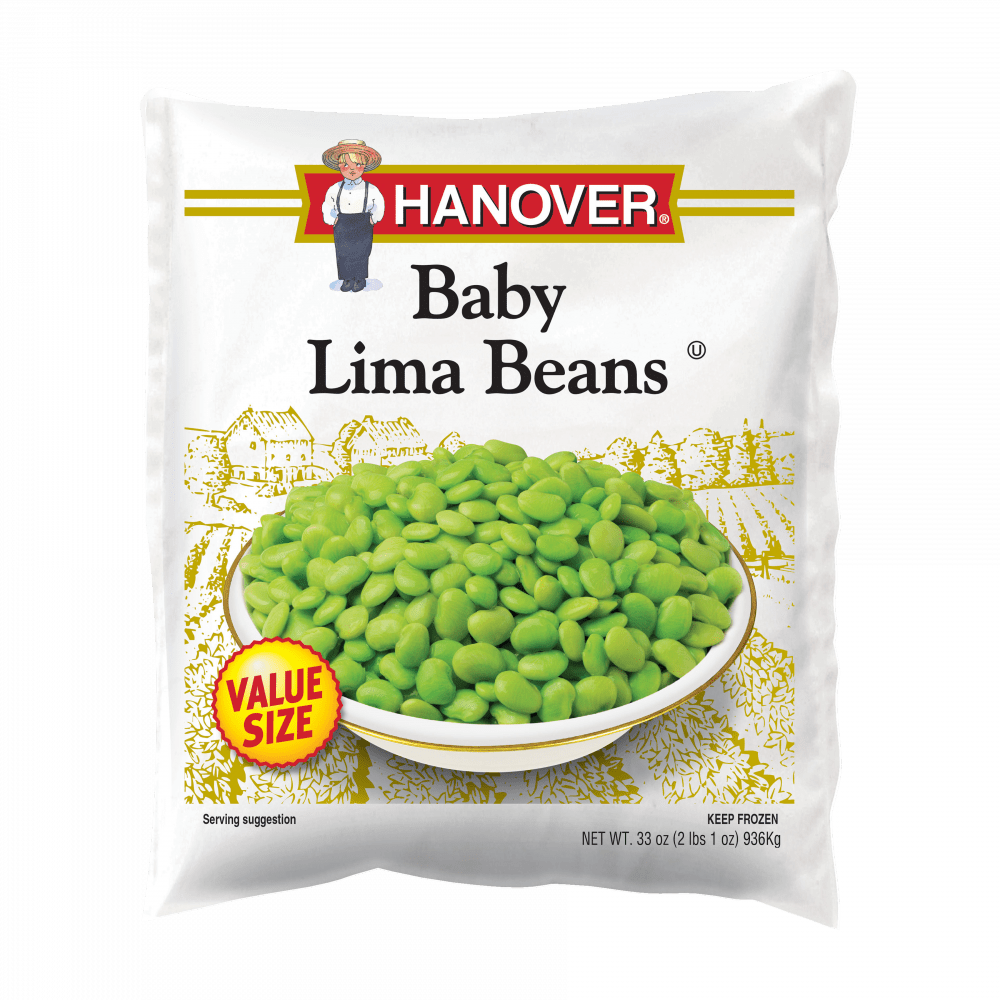 Hanover Baby Lima Beans are available in our Value Size 33 oz bag. Make your next meal delicious and nutritious with Hanover Foods Baby Lima Beans.  They come frozen to stay fresh until you're ready to eat them.  Our Baby Lima Beans are free from fat and cholesterol.  They are rich in dietary fiber, which promotes digestive regularity and keeps you feeling fuller for longer.  They are a quick, convenient, and healthy option for families
Hanover Baby Lima Beans have a delicate flavor which complements a wide range of dishes.  It's mild taste makes it a good choice to add to your favorite soups and casseroles, to subtly enhance the taste.  They are ready to heat, serve, and enjoy as a delicious and hearty side that will pair well with any protein.  Also a perfect addition to soups and stews.  They're picked when they are perfectly ripe and individually quick frozen to ensure consistent quality, freshness and texture. There are no artificial colors, no artificial flavors and no preservatives added to Baby Lima Beans.
Stove Top Cooking Directions:
Place lima beans and water (3/4 cup per pound) in saucepan. Cover and bring to a full boil.  Reduce heat and simmer 8-10 minutes or until tender. Drain; season to taste.
For food safety and quality, follow cooking directions and heat to a temperature of 165 degrees F. Refrigerate leftovers promptly. Keep frozen until ready to use.
Serving Size:1/2 cup (85g)
Calories: 110
Total Fat: 0g
Saturated Fat: 0g
Trans Fat: 0g
Cholesterol: 0mg
Sodium: 50mg
Total Carb.: 21g
Dietary Fiber: 5g
Total Sugars: 5g
Incl: 2g Added Sugars
Protein: 6g
Vitamin D: 0mcg
Calcium: 30mg
Iron: 2mg
Potassium: 380mg