Hanover Brussels Sprouts are picked at prime freshness and individually quick frozen to ensures consistent quality, freshness and texture.  They can be prepared in a variety of ways to create quality sides.
PRODUCT DETAILS
Hanover Brussels Sprouts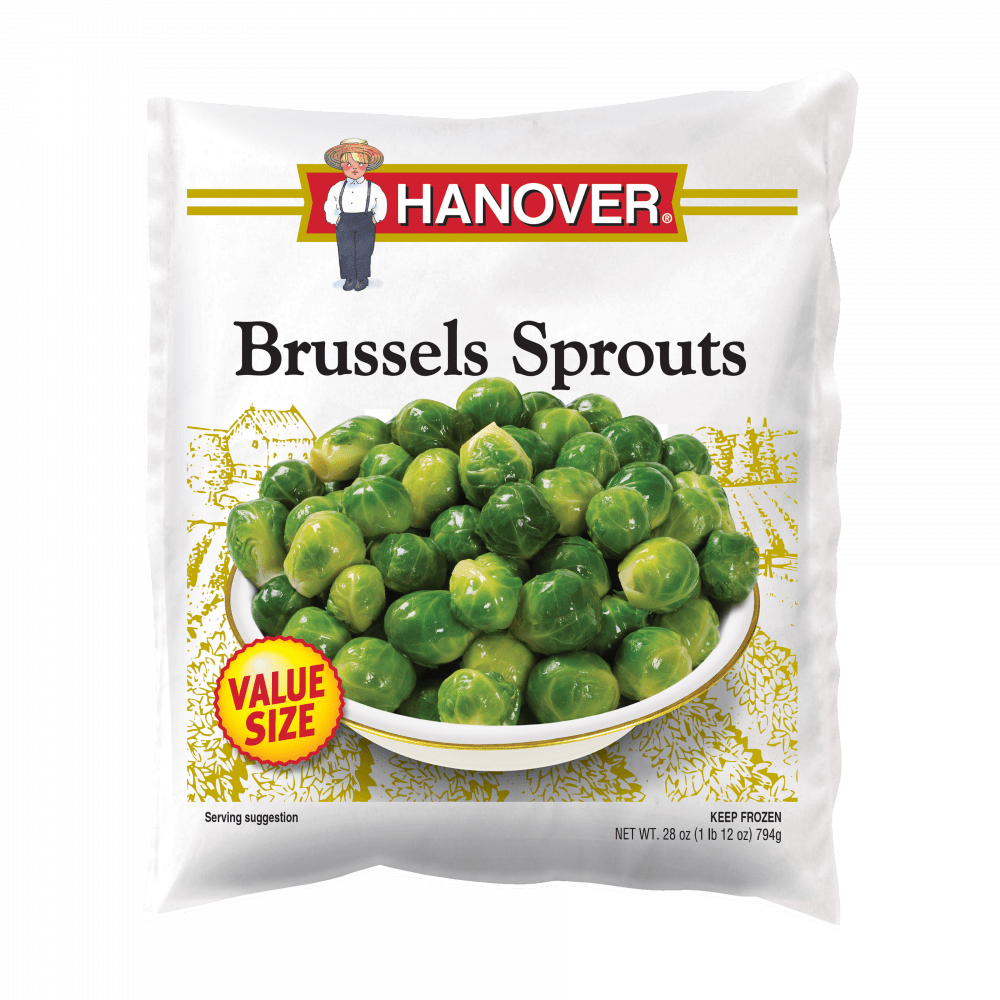 Hanover Brussels Sprouts are available  in our Value Size 28 oz bag.  Make your next meal delicious and nutritious with Hanover Foods Brussels Sprouts. They come frozen to stay fresh until you're ready to eat them. Our Brussels Sprouts have only 35 calories per serving, so you can easily factor them into your diet plan.  Additionally, they're free from fat and cholesterol. Hanover foods is committed to providing quick, convenient, and healthy options for your family.  While maintaining superior taste and quality in our products that you have come to depend on for decades.
Our Brussels Sprouts are ready to heat, serve and enjoy.  You can also toss them with olive oil and roast on a baking dish to create a crisp texture. Surprise you family at the next holiday with one of our recipes like Hanover Deviled Brussels Sprouts or Hanover Brussels Sprouts Supreme.  Our Brussels Sprouts are picked when they are perfectly ripe and individually quick frozen to ensure consistent quality, freshness and texture. There are no artificial colors, no artificial flavors and no preservatives added to our Brussels Sprouts.
Microwave Directions: 
For 14 oz of Hanover Brussels Sprouts:   Place vegetables and 1/4 cup water in 2-quart microwaveable dish.  Cover and cook 8-10 minutes at high power. Drain excess liquid, season to taste and serve.  However, if a softer texture is desired, increase cooking time slightly.  Note: Cooking time may vary due to differences in microwave ovens.
Stove Top Cooking Directions:
Place Hanover Brussels Sprouts and water (3/4 cup per pound) in saucepan. Then cover over and bring to a full boil.  Reduce heat and simmer 5-7 minutes or until tender. Drain; season to taste.
For food safety and quality, follow cooking directions and heat to a temperature of 160 degrees F. Refrigerate leftovers promptly. Keep frozen until ready to use.
Serving Size:1/2 cup (85g)
Calories: 35
Total Fat: 0g
Saturated Fat: 0g
Trans Fat: 0g
Cholesterol: 0mg
Sodium: 10mg
Total Carb.: 7g
Dietary Fiber: 3g
Total Sugars: 3g
Incl: 0g Added Sugars
Protein: 3g
Vitamin D: 0mcg
Calcium: 22mg
Iron: 1mg
Potassium: 310mg