PRODUCT DETAILS
Riced Cauliflower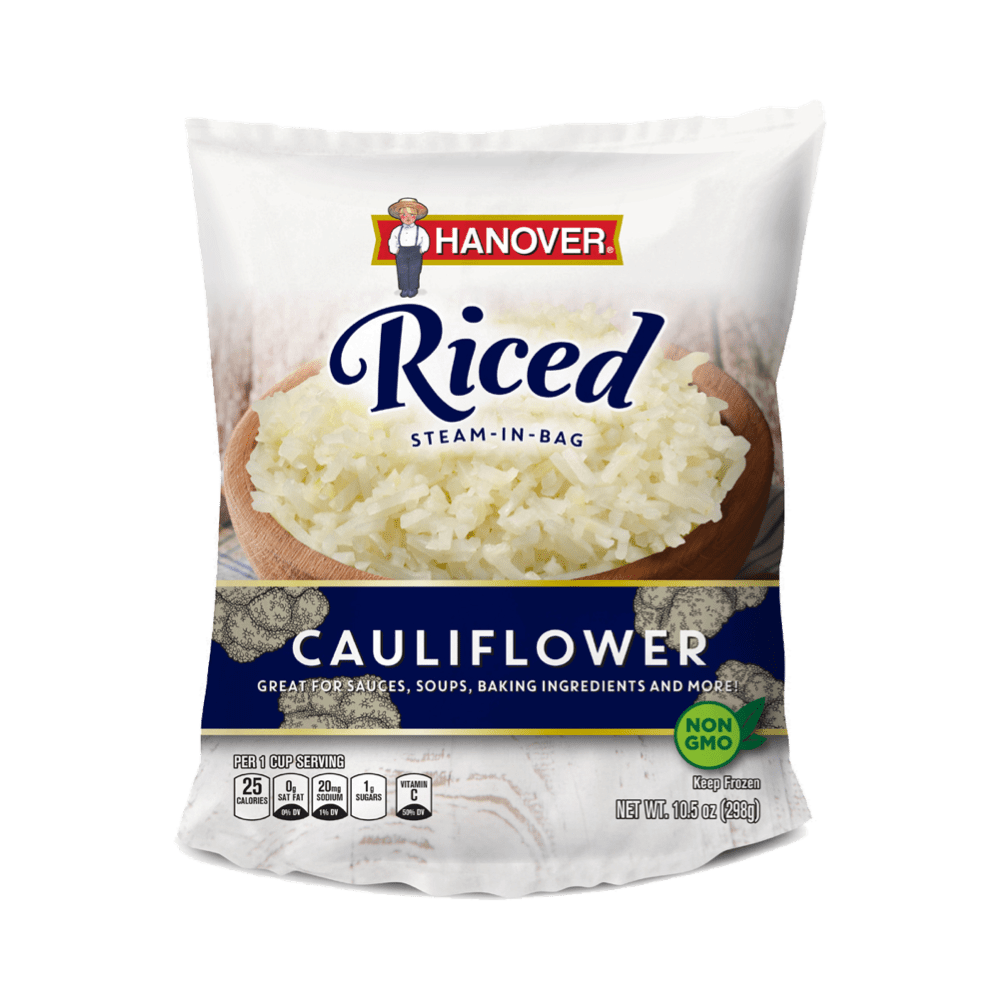 Riced Cauliflower, from Hanover Foods, is an amazing carb friendly ingredient alternative to grain rice and pasta. Commonly used for gluten free pizza crust, mashed sides, sauces and soups, riced cauliflower is cleverly finding its way to the top of the ingredients list. It is conveniently packed for quick Steam-In-Bag side dishes.  Hanover Foods is committed to providing quick, convenient, and healthy options for your family. While maintaining superior taste and quality in our products that you have come to depend on for decades.
You can substitute it for rice in any of your favorite recipes, for example stuffed peppers or Cauliflower Rice & Beans.  It can also be used to create Cauliflower Breadsticks, which will compliment a salad perfectly for a healthy and filling meal. You can even satisfy your sweet tooth by using it to make Chocolate Cauliflower Rice Pudding.  The possibilities are endless, so stock your freezer today! It come frozen to stay fresh until you're ready to eat it.  A serving of Hanover Riced Cauliflower has only 25 calories. Therefore, you can easily factor them into your diet plan.  It's free from fat and cholesterol and also low in carbs. An easy way to stay on a healthy path!
Microwave Directions:
1. Place Hanover Riced Cauliflower bag this side up in microwave. Microwave on high for 4 to 4 1/2 minutes. Bag will inflate and vent.
2. Let stand 1 minute. Remove carefully and cut open where indicated.
3. Pour into serving dish and above all enjoy!
Stove Top Cooking Directions:
1. Empty contents of Hanover Riced Cauliflower bag into a 2-quart saucepan. Add 3/4 cup water.
2. Cover and cook over medium heat for 4 to 6 minutes, stir occasionally.
3. Let stand for 1 to 2 minute. Drain; season to taste.
For food safety and quality, follow cooking directions and heat to a temperature of 165°F. Promptly refrigerate unused portions.
Serving Size: 1 cup (113g)
Calories: 25
Total Fat: 0g
Saturated Fat: 0g
Trans Fat: 0g
Cholesterol: 0mg
Sodium: 20mg
Total Carb.: 3g
Dietary Fiber: 2g
Total Sugars:1g
Incl: 0g Added Sugars
Protein: 3g
Vitamin D: 0mcg
Calcium: 19mg
Iron: 0mg
Potassium: 160mg