Wege Sourdough Broken Pretzels
These popular sourdough pretzels may be broken, but they're still full of flavor! Original pretzels twists are broken into easy to munch pieces making this crunchy snack ideal for eating straight from the bag or for coating with your favored spices and seasonings. Wege Sourdough Broken Pretzels
PRODUCT DETAILS
Wege Sourdough Broken Pretzels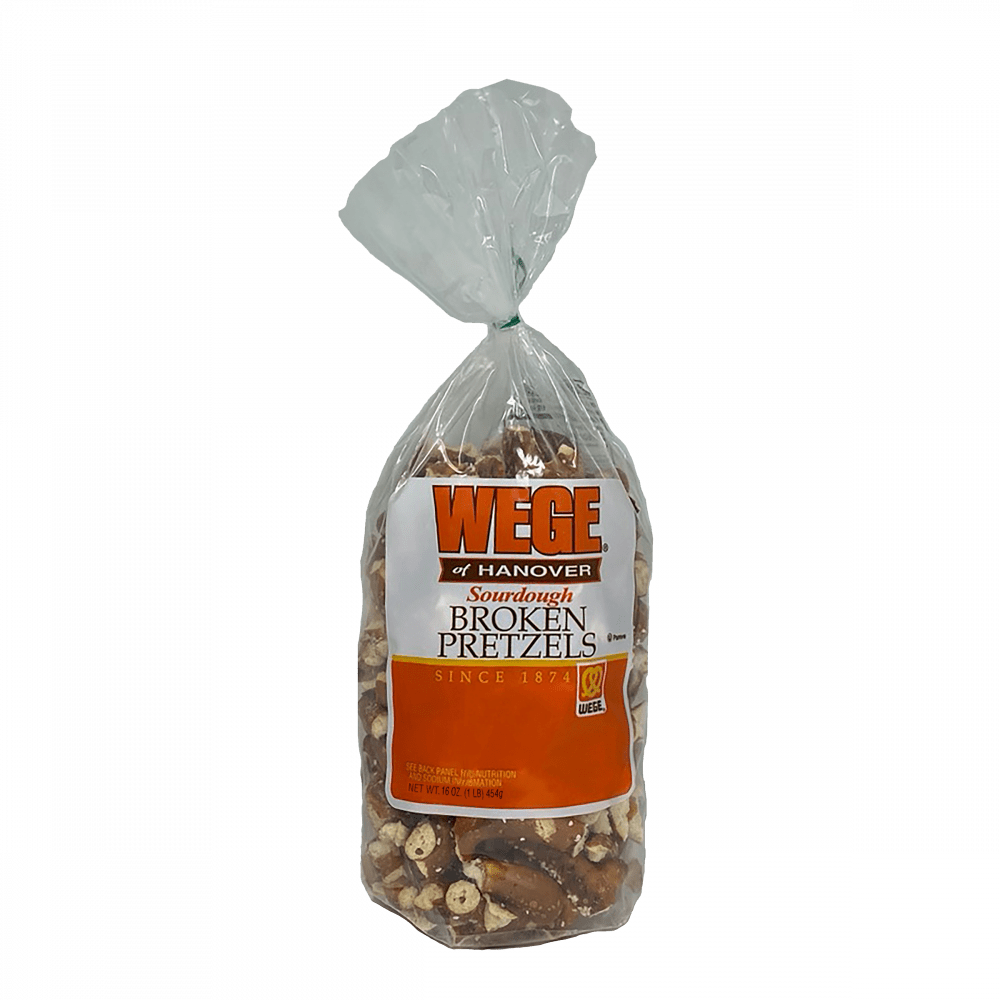 Wege Sourdough Broken Pretzels are made with a century old recipe full of a rich, sourdough flavor.  We have removed all preservatives and no trans fats from our pretzels. Our pretzels are made from the finest ingredients and cooked to perfection! Wege has been committed to creating quality products for almost two centuries. Timeless attention to detail is our way of life.
Perfect size to dip in mustards and cheese sauce.  You can surprise your guest by turning these into Ranch flavored pieces also.
Wege Pretzel Company located in Hanover, PA, is one of the oldest and respected names in the pretzel baking industry. Wege (pronounced wig'gie) is the name of a family that began baking breads and rolls during the late 1800's. A German immigrant baker who was working his way across the country went to work for Wege Pretzel Company during the early 1920's. While employed, he taught the Wege Family an old German recipe for making a large Sourdough Hard Pretzel, the one for which Wege is now famous. Wege's variety of pretzels now includes whole wheat varieties, flavored, all natural, organic, and Kosher delicacies. Wege is also the leader in co-pack and private label for high quality customers. You can buy cheaper pretzels but we believe in only the finest. Wege also manufacturers the original "Poker Pretzel" found throughout the United States.
flour, salt, yeast, baking soda, wheat, malt, corn oil, honey. Contains: Wheat Ingredients.
Serving Size: 1 oz (28g)
Calories: 120
Total Fat: 1g
Saturated Fat: 0g
Trans Fat: 0g
Cholesterol: 0mg
Sodium: 560mg
Total Carb.: 24g
Dietary Fiber: 0.5g
Total Sugars: 1g
Incl: 1g Added Sugars
Protein: 2g
Calcium: 0mg
Iron: 0mg