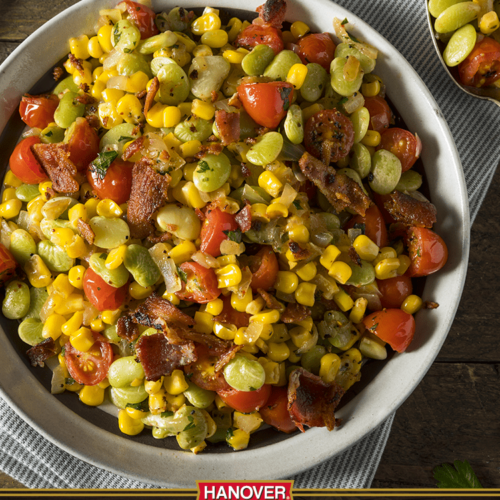 Succotash Salad
I'm sure you've had plenty of salads in your life, but this is a new definition of salad! Wheres the lettuce? Well you're gonna need to try it and see what it's all about!
Ingredients
5

tbsp

Olive Oil

2

cups

Ham

Diced

2

Hanover Foods Carrots

Diced

3

Spring Onions

chopped 

2

tbsp

Mint or Parsley

Lemon Juice 

Salt 
Instructions
Heat the olive oil over medium-high heat in a large sauté pan – large enough to hold all of the vegetables and the ham. Add the ham and the carrots and sauté, stirring from time to time, until the ham begins to brown, about 5 minutes.

Add the corn and spring onions and toss to combine. Saute for another 2 minutes.

Add the lima beans, which already have been blanched, and cook for one more minute. Turn off the heat and add the lemon juice, and taste for salt.

Cover the pot and let it sit for 2 minutes, to steam.

Toss in the mint and serve hot or at room temperature.