Hanover Chicken Corn Soup is ready to serve. Because of it's sweet corn, noodles and chicken in a savory broth along with the perfect blend of spices. You can serve the taste of homemade in minutes.
PRODUCT DETAILS
Chicken Corn Soup 15oz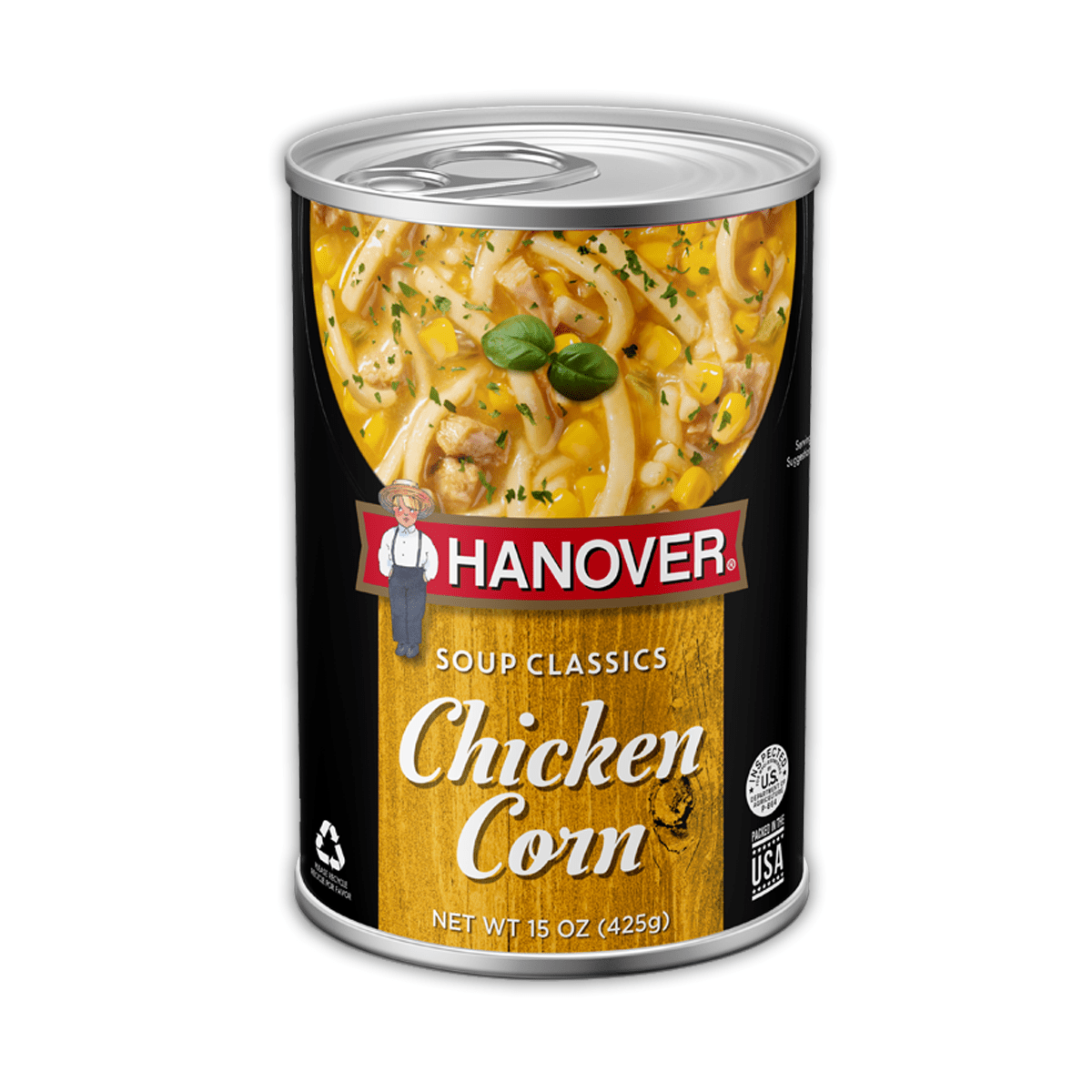 Chicken Corn Soup from Hanover Foods. Combines the comforts of traditional chicken noodle soup. With the wholesome, delicious flavors of sweet corn kernels, celery and the perfect blend of herbs and spices. So it is a classic in its own.
Chicken Broth, Corn, Cooked Chicken Meat (White Chicken Meat, Water, Modified Food Starch, Isolated Soy Protein, Sodium Phosphate, Salt), Enriched Pasta (Wheat Flour, Eggs, Egg White, Niacin, Ferrous Sulfate, Thaimin Mononitrate, Riboflavin and Folic Acid), Celery, Modified Chicken Starch, Natural Chicken Broth Flavor (Chicken Broth, Salt, Hydrolyzed Soy/Corn Protein, Chicken Fat, Natural Flavor, Modified Food Starch, Carrot and Onion Juice Concentrate), Salt, Monosodium Glutamate, Natural Flavors, Beta Carotene. Contains: Egg, Soy, Wheat
Serving Size:1 cup (240g)
Calories: 110
Total Fat: 2g
Saturated Fat: 0g
Trans Fat: 0g
Cholesterol: 20mg
Sodium: 710mg
Total Carb.: 20g
Dietary Fiber: 1g
Sugars: 3g
Protein: 6g
Vitamin A: 0%
Vitamin C: 2%
Calcium: 0%
Iron: 2%