Hanover Foods Black Bean Salsa is a great healthy, hearty appetizer for parties and a time saver!  You can add your personal flare by simply adding jalapenos, avocado, fresh cilantro, or cumin…the options are is endless. We combined our delicious black beans with sweet corn, onions, and bell peppers and seasoned it perfectly to create this amazing salsa.
PRODUCT DETAILS
Black Bean Salsa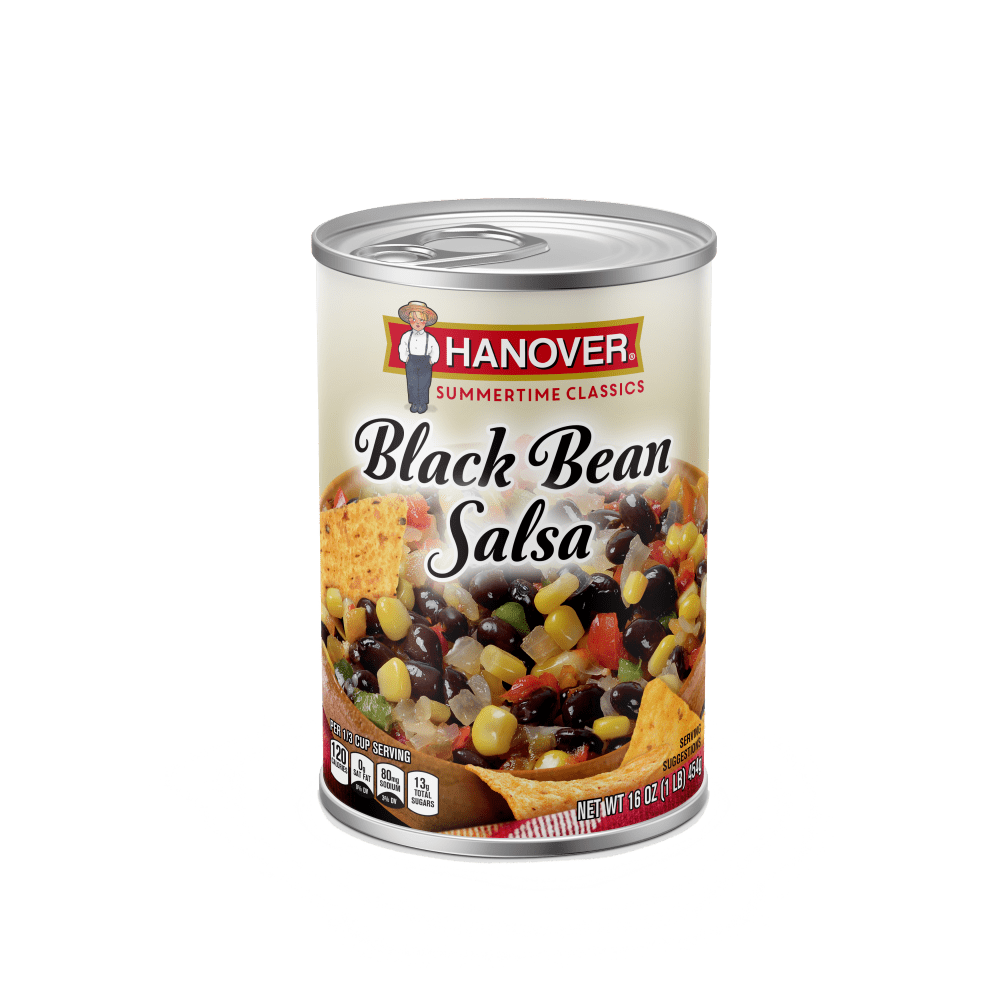 Black Bean Salsa, from Hanover Foods, is part of the Summertime Classics Collection. We have combined our delicious black beans with sweet corn, onions, and bell peppers and then seasoned it perfectly to create this amazing salsa. You can serve the salsa straight from your pantry or chill it ahead of time.  This salsa pairs perfectly with your favorite tortilla chips. Also use it as a topping on fish, beef, or chicken tacos.  It is low fat and will give additional flavor to a garden salad when used as a topping.
Mix our Black Bean Salsa with ground beef, turkey or chicken. Then served over rice to create a delicious and satisfying complete meal. Hanover foods provide quick, convenient, and healthy options. While we maintain superior taste and quality in our products that you have come to depend on for decades.
From Our Fields to Your Table
Back in 1924, the Hanover Canning Company was founded. Selling its large scale offering of canned beans and vegetables locally in small markets and along road side stands. From those humble beginnings, the Hanover Brands name was born. Bringing light to the growing number of retail brands of canned and frozen products that were featured in large scale supermarkets throughout the Northeast.
Today, Hanover Foods Corporation grows, packs, markets and distributes a full line of canned, frozen, fresh and also snack food specialty products. The growing Hanover family of brands includes such popular names as Castleberry's, John Cope's, Bickel's, Wege, Dan Dee, Golden Gourmet and Spring Glen. Hanover can serve all of your grocery needs. Providing quality canned products to frozen vegetables to fresh soups and a complete line of salty snacks. Hanover Foods is positioned to be the only privately held, fully integrated, kosher certified food processor in the nation. Placing quality and food safety above all else in our 14 manufacturing facilities.
Black Beans, Corn, Water, Sugar, Onions, Red and Green Peppers, Distilled Vinegar, Soybean Oil, Hot Sauce,(Distilled Vinegar, Red Pepper, Salt), Salt, Onion Powder.
Serving Size: 1/3 cup (85g)
Calories: 120
Total Fat: 2g
Saturated Fat: 0g
Trans Fat: 0g
Cholesterol: 0mg
Sodium: 80mg
Total Carb.: 24g
Dietary Fiber: 4g
Total Sugars: 13g
Incl: 11g Added Sugars
Protein: 3g
Vitamin D: 0mcg
Calcium: 30mg
Iron: 1mg
Potassium: 120mg